View more
AKS News » AKS Hinitsa Bay Hotel is getting renovated and is waiting for you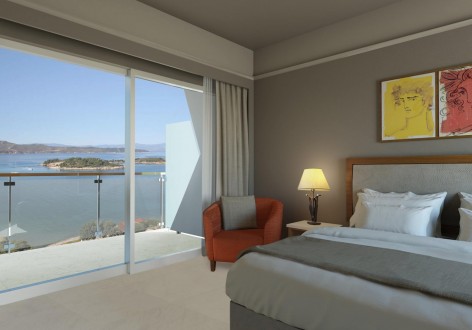 The new season is approaching and is bringing lots of surprises with it. AKS Hinitsa Bay is getting renovated, it is becoming more modern and comfortable and is waiting for you.
March is only a few weeks away and AKS Hinitsa Bay at Porto Heli is ready to reopen, but things are going to be very different. The rooms and the pool are all being renovated so you can enjoy your vacation even more, in a hotel with a view to the best beach of Argolida, Hinitsa.
The changes that have been planned for the rooms are perhaps the biggest surprise that awaits for you. The entire wall that was behind the balcony will be replaced by glass panels, while the balcony itself will no longer have banisters but transparent glass. This way nothing will obstruct the amazing view to the Argolic gulf and you will be able to enjoy the sea and the view from any spot in your room. The decoration of the rooms has also been changed, so it can match the new era of AKS Hinitsa Bay.
The changes in the pool are a bit more discreet; emphasis will be put upon functionality and safety without of course compromising the aesthetics and the beauty of the space. The time you'll spend in the pool, or by its side, with a drink, will always be offering the same peace and quiet and enjoyment.
What hasn't changed? The warmth with which we'll welcome you hasn't changed, the dedication to offering the best services to our guests, the unique beauty of the hotel, of Porto Heli, of Argolida. That's why we're working feverishly, so, as soon as spring is here, we'll be able to accept our guests in the renovated, yet familiar AKS Hinitsa Bay Hotel.