View more
AKS News » Dakine Porto Heli SUP Challenge 2016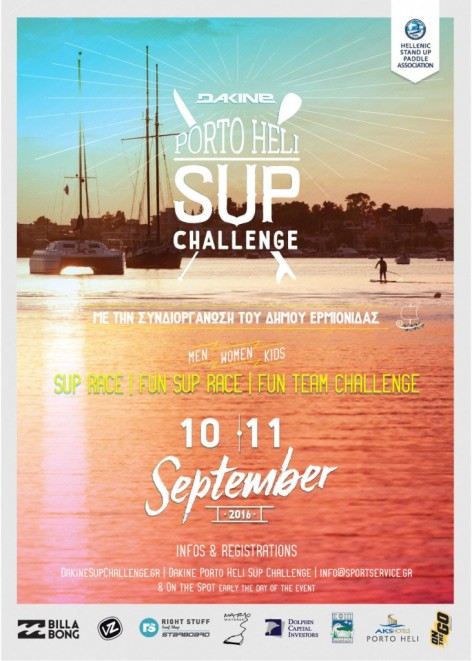 Porto Heli and AKS Hotels, always trendy and ahead of their time, are hosting for a second consecutive year the Dakine Porto Heli SUP Challenge. On September 10 and 11, the beach of AKS Porto Heli will welcome kids and adults who will want to show off their skills in SUP. As long as there's still good weather and swimming in the beautiful sea of Porto Heli is appealing, it's a good opportunity to also enjoy some water sports.
What is SUP anyway? SUP, standing for Stand Up Paddle (pun intended) is the new trend in water sports, found in the Mediterranean Sea and all over the world, since it's easy to pick up but difficult to master. In Dakine Porto Heli SUP Challenge you'll see races for all ages and all skill levels. On Saturday, September 10, there will be a more relaxed and fun relay among teams and also a mini race for children under 10 years old. The main events will be on Sunday and will be divided into two categories: 6 km Race and 3 km Fun. Men, women, athletes and beginners are free to participate in the events and they can even register on the website of the organizers http://www.dakinesupchallenge.gr.
AKS Hotels are proud to be sponsors of this important event. Besides their beach that will be used for the races, they will also offer the organizers some rooms (breakfast included), while participants will be able to receive a discount for their stay. Besides AKS Hotels, the event is also sponsored by the Municipality of Ermionida, The Friends of Porto Heli Association and many companies in the SUP business and water sports.
So don't miss the opportunity to take part, as a racer or as a spectator, in a great spectacle that goes so well with the Greek seas.
AKS Porto Heli Hotels Peloponnese