View more
AKS News » Porto Heli and AKS Hotels – The best combination for your wedding and your social events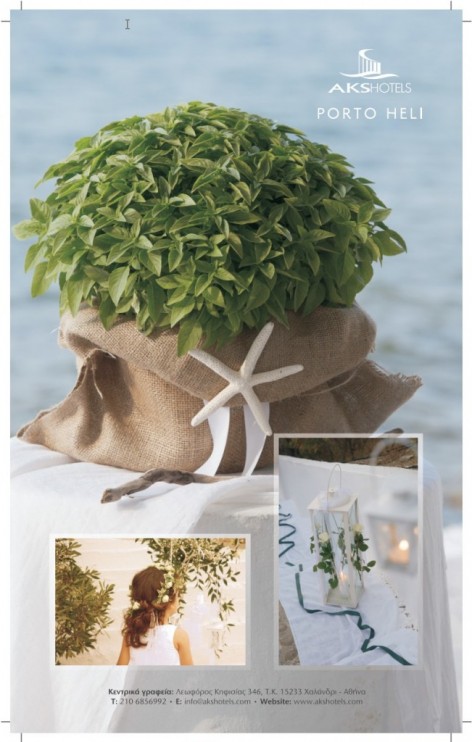 Majestic views, beautiful space, romantic atmosphere, excellent service and well-trained staff: If Argolida is the perfect place to get married, with all those wonderful chapels, which are either next to the sea or among the trees or even, in the best of cases, combining the two, then the hotels AKS Porto Heli and AKS Hinitsa Bay will offer the ideal way to end the evening. If you get married at the Porto Heli church or the much sought after Aghios Aimilianos, all roads, in the end, lead to the AKS Hotels, in order for you to complete a unique day that you will remember for the rest of your lives.
With years of experience in the field of wedding receptions, christenings, parties and other events, the AKS Hotels can perfectly organize an evening according to your wishes regarding the music and decoration, an evening that you won't forget. In a space that will satisfy even the most demanding of your guests, time will fly with a wide range of drinks and excellent food, prepared especially for your reception by established chefs, who have based their choices on your preferences.
The idyllic landscape in Porto Heli, as well as the excellent weather that stays with us during most of the year will also help you to spend an, in any case, unforgettable evening. AKS Hotels, however, will make sure that everything goes according to plan, your guests are having fun and are entertained, while at the same moment the staff is making sure to stay as discreet as possible.
If you have any questions on the events and the wedding receptions that can be organized by AKS Hotels at Porto Heli, you can come into contact with us at any point in time. You can also come and find us at the Bridal Expo, held from 9 to 11 January at Zappeion. There, in stand 610, you'll find out about every service offered by our hotels, but you'll also be able to discuss with us every issue that interests you regarding the perfect wedding reception you would want us to organize.
Porto Heli and the surrounding areas of Argolida are veritable gems in Greece and it is no accident that many couples choose its churches, and the AKS Hotels, for a day when they wish everything to be impeccable. For a majestic evening that will include fun, enjoyment, entertainment, but will also stir your emotions, trust AKS Hotels and beautiful, unique Porto Heli.