View more
AKS News » Athens and Epidaurus Festival 2016 – Full July, Calm August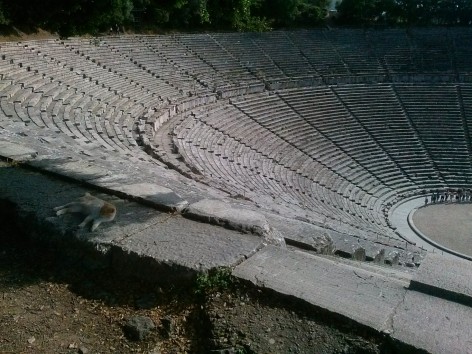 Summer is the season of festivals and the most important artistic and cultural space in Argolida and Greece, that has been operating for millenia, couldn't miss this opportunity. We are, of course, talking about Epidaurus, this ancient theater that is famous all over the world and that this year, like the years before that, hosts an important part of the Athens and Epidaurus Festival putting emphasis – where else? – on ancient theater.
The July we just left behind was very exciting with amazing performances that left a very enthusiastic audience behind them, despite its familiarity with the traditional plays whose plots more or less everyone knows. Sophocles and Aeschylus, the great tragedians along with Euripides, came back once more to their natural habitat, but the audience also had a good laugh with Aristophanes' timeless jokes.
This July, the performances included Aristophanes' Wealth, Oresteia and Seven Against Thebes by Aeschylus and Antigone and Oedipus Rex by Sophocles. All the plays were directed by people established in theater and the arts, like Giorgos Kimoulis, Yannis Houvardas and Stathis Livathinos. In August the festival has two more Aristophanes plays in store. Lysistrata, directed by Michael Marmarinos and The Birds, directed by Nikos Karathanos.
A very interesting schedule was also shown by the Ancient Epidaurus Little Theater, with some performances being rather innovative. Dances, concerts and a different kind of theater, like Oedipus Rex through the lens of the Romantic poet Percy Shelley.
Epidaurus is one of the most important archeological sites in Greece and is definitely the one that is most alive, since it is still being used for the purposes it was originally built. Every summer, people from Greece and abroad come to beautiful Argolida to enjoy the charms of the land, as well as to discover a different aspect of history.
Peloponnese Hotels – AKS Porto Heli