View more
AKS News » Why did ANTENNA's morning show come to Porto Heli and AKS Hinitsa Bay?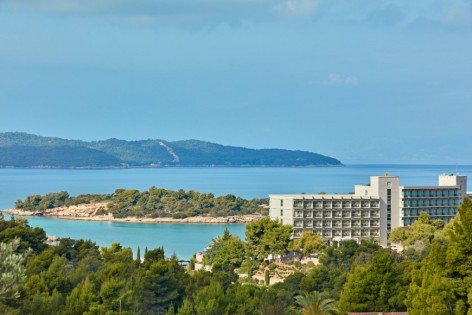 Porto Heli and AKS Hinitsa Bay danced, sang, had fun and partied last week, along with ANTENNA's To Proino, the best morning entertainment show in Greece. Faii Skorda and Giorgos Liagkas, their friends and their distinguished guests came to Hinitsa Bay and transmitted from there to the whole of Greece the beauty of the area.
And why wouldn't they choose Porto Heli and AKS Hinitsa Bay to shoot their show? The beach of Hinitsa is among the most beautiful beaches of Argolida, even though to us it surpasses all others. Porto Heli itself is called the Greek Riviera, because it is cosmopolitan, refined and attracts the best crowds from Greece and all over the world.
The weather was great, the location, between the green mountains and the blue sea, unique, and AKS Hinitsa Bay, renovated and refreshed, was at its best to welcome the most important names of Greek show business. Along with Giorgos and Faii we experienced unforgettable moments, we learned amazing recipes, we were informed on what is going on and what will go on and, of course, we had the time of our lives.
Porto Heli is the best town for shows such as To Proino and this was proven by the interest and the love the people demonstrated. Porto Heli's cosmopolitan identity was shown and combined perfectly with the glamour of Greek television, even though it would be impossible for the TV screen to do justice to the grandeur of this majestic place. Beyond Hinitsa and Porto Heli, there are so many places to see, so many things to do. From dense forests to gorgeous coasts and from archeological sites to excellent restaurants, Porto Heli and the surrounding areas will be heaven for those who decide to have their vacation here.
So, don't stall, not even for a minute. Book a room at Porto Heli and AKS Hotels and spend the best vacations of your lives.
AKS Hinitsa Bay – Peloponnese Hotels