View more
AKS News » Island vacations at Porto Heli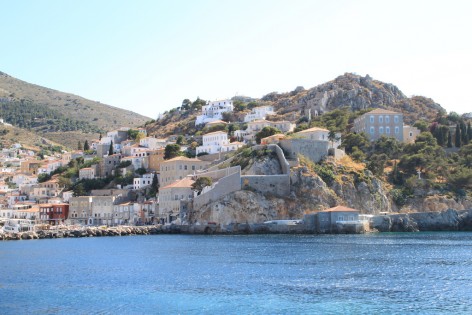 Porto Heli might be in continental Greece, but this doesn't mean that you can't have island vacations in it. Yes, it's very easy to get to it by car from Athens and, sure, within ten minutes you can be in the mountains and forests of Argolida, but one of the greatest advantages of Porto Heli as a vacation destination is that it gives you a sense that you're on an island, as well as makes it all too easy to visit some of the most famous Saronikos islands for a daily trip.
Spetses
From the pier of AKS Hinitsa Bay you can hire a hydrotaxi that will take you across to Spetses in just a few minutes. Alternatively, from the Porto Heli harbor and Costa coast, a 10-minute drive away, there are regular routes that can take you to the majestic and aristocratic island of Spetses. The island is not only historical for its role in the Greek revolution of 1821, it also belongs to one of the oldest island vacation destinations, since people have preferred it for decades, long before other Greek islands became famous. Good, but few, beaches will be waiting for you, along with good food and, mainly, a beautiful town that invites you to walk around in it.
Hydra
Hydra is another gem of the Saronikos gulf and also very easy to visit from Porto Heli. You'll take the ferry (conventional or fast) from the harbor or you'll head to Metohi where other options are available. Hydra is an experience you can't miss. Cars are prohibited on the island and you'll go everywhere on donkeys, hydrotaxis or even bikes. Of course, what we would suggest is simply to enjoy the town of Hydra on foot, wander in its narrow streets and next to its little houses. Hydra has its share of beaches, though this is not what it is famous for. If you're looking for a beautiful trip during your stay at Porto Heli, then Hydra should be high up in your list.
Poros
The same ferry that will take you to Spetses and Hydra can reach all the way to Poros (just check the routes to make sure). The other option would be to go to Galatas by car and then swim to Poros. OK, we weren't really serious about that last detail, but the distance is so short that you'll think you can easily do it. Just in case, however, take a hydrotaxi. Poros is full of sights and beautiful beaches, but don't forget to have lunch in one of its amazing little taverns. You won't regret it.
A boat trip
If you want something more than the obvious islands of the area, the seas around Porto Heli are filled with smaller islands that hide beautiful areas and amazing beaches. To the south of Spetses, there is Spetsopoula, that has some basic infrastructure. An especially interesting trip is Dokos, northwest of Hydra. Just like Spetsopoula, it has very few permanent residents, but it is famous for the wonderful vistas it offers and the free camping that so many people do at the north beach of the island. If you're interested in fishing, you may be able to go into deeper waters and head to Psili in the Argolic Gulf or Trikeri, between Spetses and Hydra. If you don't own a boat, try to strike a deal with the hydrotaxis in the area, so you can take a little trip to the less famous waters around Porto Heli.
Peloponnese Hotels – AKS Porto Heli