View more
AKS News » Family Beaches in Paros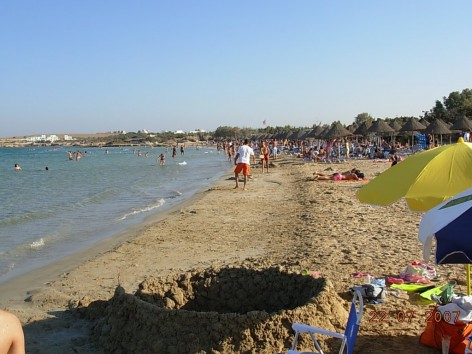 The best family beaches of Paros are the ones that you choose to spend a few moments of pleasure, peace and relaxation with your family. In other words, every beach is a family beach, if you can have fun with your husband or wife and your children. There are, however, some criteria that those beaches must meet in order to be enjoyed by a family and Paros has lots of those, some famous, some not so much.
Today we are going to suggest to you a few of these, even though your options are practically unlimited.
Santa Maria (and Little Santa Maria)
Near Naoussa and towards the east, there is Santa Maria, one of the most beautiful beaches of Paros, despite the fact that it is often not mentioned among the most famous coasts of the island. It is huge for a Greek island beach and has all those services and facilities that a family wishes. You can buy food and drink anytime, and at the same beach you can try your hand at water sports or just some beach volleyball. For the children, however, the biggest advantage of Santa Maria is its amazing sand. Don't be surprised if they lose themselves constructing sand castles, splashing in the calm waters and playing with the many other children they'll find there.
Close to Santa Maria, you'll find Little Santa Maria, in a quiet corner at the northeast of Paros, calm and peaceful located at a bay protected from the elements. There's definitely less of a crowd than Santa Maria, but, depending on your preferences, this could be an advantage. Don't miss the chance to visit Little Santa Maria to see the less boisterous side of Paros.
Monastiri
Also close to Naoussa, Monastiti beach doesn't have as many people as Santa Maria, but has everything a family might need, namely, plenty of shade under either the umbrellas placed there or the beautiful tamarisks. The waters are great for small children that can't swim very well, since they're relatively shallow and the beach rarely gets strong waves.
Chryssi Akti (Golden Coast)
If a beach is excellently organized, then it is certain that it can be enjoyed by the families that visit it. Chryssi Akti isn't particularly famous as a family beach, but a family that will go there will have everything at its disposal. It's not necessary for your three-year old to learn how to surf (though it shouldn't be ruled out), but nothing will prevent him or her from playing with the waves and the sand.