View more
AKS News » Santa Maria – The best beach of Paros for families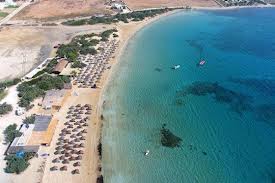 Paros is famous for its beaches. Whether you're there as a group of people or as a couple, whether you're there with your family or on your own and whether you want some wild partying or isolation, Paros definitely has a beach that will satisfy your every wish. It's no accident that so many Paros beaches are known even by people who have never been to Paros: Kolibithres, Pounta, Chrysi Akti are practically brand names.
Today we will talk about Santa Maria, which should be equally famous. Except for a beautiful landscape with cedar trees and sand dunes, Santa Maria is huge, perfectly organized and has many activities for the whole family. Play beach volleyball and other sports, lie down under the umbrellas, go to one of the surrounding establishments and have coffee or a meal! It is very easy for a family to spend its day there and find out that they have everything they need. Children of all ages, as well as adults can find many things to do and will never get bored. And if you have the spirit of adventure within you, you can learn how to do windsurfing and other water sports.
Santa Maria is at the east of Naousa bay with a view to Naxos. If you're ever at Paros, make sure it's one the first beaches you visit.
Paros Hotels – AKS Chroma Paros