View more
AKS News » The Best Beaches in the Peloponnese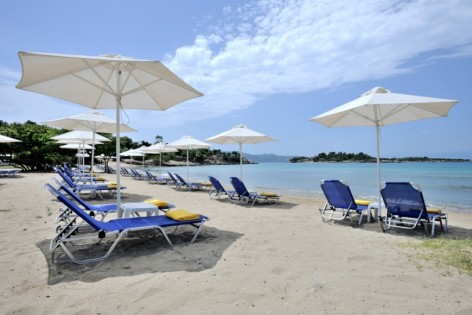 The Peloponnese is full of beautiful beaches that are quite often more than comparable to the ones on the Greek islands. What's more, it is even easier to take a spontaneous trip to the Peloponnesian coast, since all you need is a car and a taste for exploration. Today we have chosen and present to you some of the best beaches in the Peloponnese.
Hinitsa
It may be small, but it is very impressive. Surrounded by trees, perfectly organized, with a blue flag and a wonderful view of the island with the same name, Hinitsa beach at Porto Heli has enchanted thousands of AKS Hotels guests and not only them.
Tolo
If you're looking for a larger beach, organized and with ease of access, then go no further. The beach at Tolo is exactly what you want. It is suitable both for families and groups of friends, it has crystal clear waters and offers various water sports and other activities.
Kaiafas
On the other side of the Peloponnese, you can find the beach of Kaiafa or Zaharo. It's got many kilometers of sand, perfect for camping, but it is welcoming to families as well. Its great advantage is that it is close to the ancient site of Olympia.
AKS Porto Heli and AKS Hinitsa Bay Hotels are in the ideal location for those who want to see the Peloponnese, strategically placed close to Athens and some of the best beaches in the region. With 204 rooms and 9 suites in the former and 206 rooms and 10 suites in the latter, and also many amenities you won't find elsewhere, AKS Hotels can guarantee you a perfect stay.
Peloponnese Hotels – AKS Porto Heli