View more
AKS News » Peloponnese and Porto Heli – The ideal couple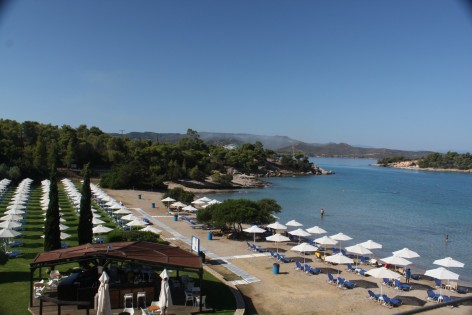 There might not exist a region in Greece with a greater variety than the Peloponnese. It contains mountains and seas, ancient monuments and modern living, amazing towns and breathtaking landscapes, happy and hospitable people and a long history, evident every minute you'll spend there. Where else can you find a combination of the beauty that could belong to the Greek islands with wild nature, where else can you find amazing beaches and secret routes everywhere, picturesque villages and endless forests? And, besides that, a visit to the Peloponnese, especially for those who are in Athens, is very easy: just get into your car or rent one and just follow the road towards the southwest; wherever it takes you, you will have fun.
Among the various regions in the Peloponnese, it is Porto Heli that stands out and the reasons for that are so many that it would be impossible to mention them all. We will just list some of them in order to show you why a trip to the Peloponnese should always begin from Porto Heli:
Amazing beaches: From the central beach of Porto Heli and the unique Hinitsa with its little island and its many trees, to the Kosta and Ververonta beaches and also Ermioni close by, Porto Heli will grant you infinite opportunities to swim in the summer (or at other times of year, if you so dare).
The best trips: Really close to Porto Heli are some of the most important sights in Greece. The historic Mycenae, Epidaurus, which is the center of world theater, Troizina that might as well be the most beautiful archeological site in Greece, Tiryns, Avgou Monastery, the Fragthi cave with its prehistoric civilization, even Nafplio with Palamidi, the symbol of Greece's modern history, all these are accessible after only a short drive from Porto Heli. Use it as your base of operations to see the history of Greece unfold in front of your eyes.
The choice of the rich and famous: It's not by accident that Porto Heli is where the rich and famous of Greece and the world come to rest. The cliff sides around it, along with nearby villages like Aghios Aimilianos, are full of villas and mansions. They have chosen this region for its unparalleled beauty, but also for its proximity to Athens, which means that it is easy for a quick weekend escape.
Porto Heli has everything: Last but definitely not least is the town itself. In Porto Heli you can eat in exquisite restaurants, relax in idyllic cafes, have a good time at charming bars and take pleasant walks by the waves. Porto Heli can offer you all you need so that your vacation can simply be perfect!
Peloponnese Hotels – AKS Hinitsa Bay