View more
AKS News » Spearfishing at Paros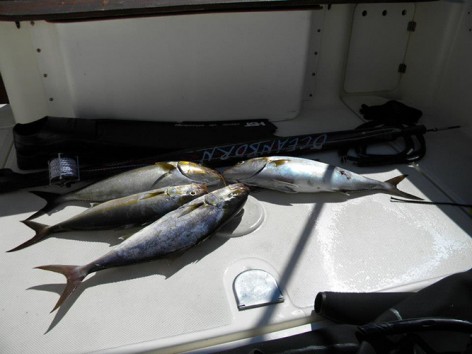 The beaches of Paros are not just for swimming, relaxation, fun, maybe a drink, maybe a bit of water sports. The seas of the Aegean hide a lot of secrets and all you have to do is discover them by going beyond the usual affairs and trying to explore an aspect of them, which, if not concealed, at least, it doesn't reveal itself to many.
We're talking about spearfishing of course, an activity that has more to do with coming close to the depths of the sea, than with fishing itself, more with the enjoyment of nature than with the hunting of the creatures of the sea. The spearfisher may complain if he catches nothing, but deep inside him, he knows that he isn't doing it to eat fish, as much as he's doing it to feel one with the sea, even if we humans are not aquatic animals.
So, if you're a spearfishing enthusiast and ever find yourselves on vacation at Paros, then you'll have the opportunity to talk to the locals about the best places to practice your hobby. Rest assured that you will hear phrases such as "everything has already been fished" or "there is no fish in sight" or "even the octopuses have disappeared", but we all know that this will not be the only reason you will go spearfishing. You could call your activity "advanced snorkeling", just because you'll have with you more equipment than just a mask and a snorkel.
Those who know the sport know that there are specific places where it's best to fish. And unless you're looking for cuttlefish, then it's wise to stay away from sandy beaches, which, as wonderful as they are, will not offer you the magical sights that you'll see underwater near rocky coasts, which sometimes can be found next to famous beaches and well-known villages of the island. You can for example go to the Faraga beach or to the coast between Lefkes and Prodromos. Another beach where you can start your spearfishing adventures is Logaras. On the other hand, if you'd rather go to the north of the island, near Naoussa, then Naoussa bay has various locations where you can dive and enjoy the sea, as long as you stay away from where most boats go.
There are also diving schools at Paros that can take you spearfishing and show you the best places. But if you happen to go on your own, remember to always take every safety precaution in the book, so there won't be an accident to you or other bathers.