View more
AKS News » AKS Hotels will be the Grand Sponsor of "Performances at Ermionida"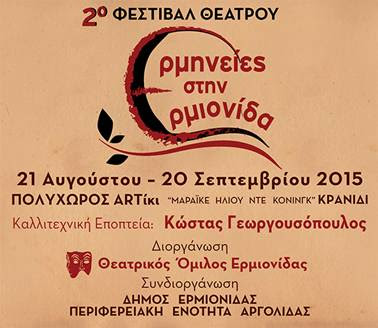 AKS Hotels will show once more their love for culture and will become sponsors of the Second Theater Festival "Performances at Ermionida". The festival will take place from August 21 until September 20, under the artistic guidance of Kostas Georgousopoulos.
AKS Hotels are synonymous to Porto Heli, Ermionida and Argolida and that is the reason they will take under their wing this important event in a place that has loved theater since the antiquity – let us not forget that Epidaurus is very close. The event is being organized by the Ermionida Theater Club and will take place at multispace ARTiki "Maraike Iliou de Konig" at Kranidi, the main town of the area, just a few minutes away from Porto Heli.
The program is expected to be magnificent, since it consists exclusively of female monologues that will be interpreted by nine of the top actresses of Greek theater: Lena Papaligoura, Katerina Didaskalou, Tatou Dede, Iro Mane, Mina Cheimona, Aglaia Papa, Pemi Zouni, Elina Rizou, Anna Vaghena. According to Mr. Georgousopoulos, the festival aims at introducing people to good theater and that is a goal that AKS hotels are proud to support. The festival plans to become a top cultural institution that will help culture grow and spread in Ermionida.
The festival "Performances at Ermionida" isn't just about theater, however. The program opens with a musical performance, a concert dedicated to the great Manos Hadjidakis, where Elli Paspala and Tasos Christogiannopoulos will be singing. The program of the theatrical performances is as follows:
23/8 "Caterina", by August Corteau, with Lena Papaligoura
26/8 "Upstairs Whore", by Antonis Tsipanitis, with Katerina Didaskalou
2/9 "Lilith, a string of ancient drama monologues, with Tatou Dede
4/9 "Notary", by Nikos Vasileiadis with Iro Mane
6/9 "The Invisible Chain", by Carlos Ferrera, with Mina Cheimona
11/9 "Julius", by Constantinos Hatzis, with Aglaia Papa
13/9 "Centuries away from Alaska", by Akis Dimou, with Pemi Zouni
18/9 "Βitch boxer", by Charlotte Josephine, with Elina Rizou
20/9 "The Wedding", by Vasia Solomou-Xanthaki, with Anna Vaghena
Peloponnese Hotels – AKS Porto Heli