View more
AKS News » The Archeological Site at Tiryns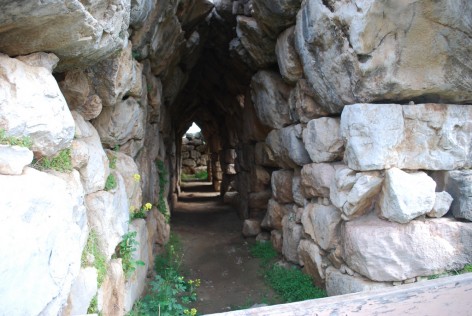 The archeological site at Tiryns is one of the most impressive in Greece, even if it isn't as famous as the nearby Mycenae. It is located a bit outside Nafplion, not too far from Porto Heli and it is perfect for a pleasant trip, also because of the beautiful natural landscape that surrounds it.
Even though there are in Tiryns some ruins from the neolithic era, the most important and most impressive belong to the Mycenaean era, when the region flourished the most, since, during the historical years, studies have shown that it was destroyed by the much mightier Argos. When you visit the site, during the tour you'll see the Upper Acropolis that includes the eastern gate and the Lower Acropolis, where the palace can be found.
The whole hill is surrounded by the Cyclopean walls, a truly amazing work, given the technical capabilities of the times, since their thickness can reach up to eight meters. The waterworks system of the city is also pretty interesting. Finally, a bit farther out from the Acropolis there are some beehive tombs, evidence of the important personalities that resided in the area.
If you have time to spare, a visit to Tiryns from Porto Heli is definitely worth it. You can easily combine it with a quick cup of coffee at Nafplion or Argos and your day will be more than pleasant.
Peloponnese Hotels– AKS Porto Heli