View more
AKS News » The Samaria Gorge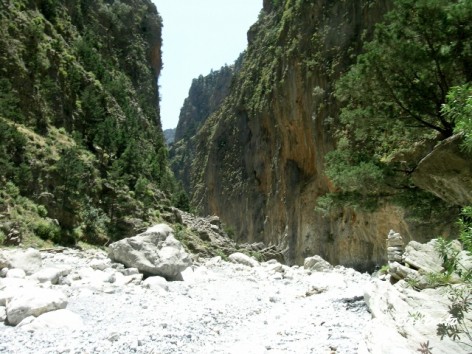 It is one of the longest gorges in Europe and definitely one that will provide you with the opportunity to find adventure, to see amazing and hidden locations, to enjoy nature, and also to test your mettle. The Samaria gorge is rightfully considered one of the best activities for visitors to Crete, even if it is for the most part far away from its beaches and its ancient sights.
The Samaria gorge is located in west Crete, to the south of Chania and next to the imposing Lefka Ori (White Mountains). The two edges of the gorge are Aghia Roumeli at the southern coast and Ksyloskalo at the Omalos plateau. It is not necessary to walk through all eighteen kilometers of its length, since this will take a long time. Choose the route you want to do and just let this majestic and wild gorge drive you away from everyday stress.
While at the Samaria gorge, you should know that it's forbidden to disturb the flora and fauna of the area. The latter includes the famous kr-kri, the goat species found only in Crete and nowhere else on Earth.
If you find yourselves vacationing in Crete, then a visit to the Samaria gorge is a must. Hersonissos with its nightlife, Knossos that takes you to the past and beaches like the palm tree forest at Vai might seem to suit summer best, but if you're looking for something different, you won't find it anywhere else.
Crete Hotels – AKS Minoa Palace