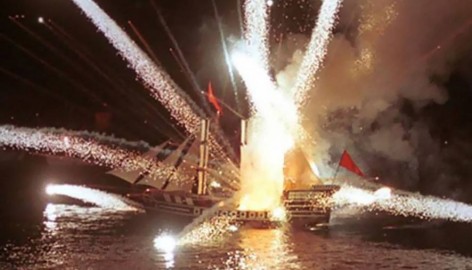 This Saturday and Sunday, on September 10 and 11, you'll be able to see the most important events for Armata Spetses 2016, a spectacular celebration that takes place in Spetses every year, but mainly in the seas around this wonderful island. Get ready for fire and fireworks, explosions and naval battles (or just their reenactment) at a festivity that attracts hundreds or even thousands of visitors every year, who want to enjoy the show, but also the good weather of September at majestic places.
Why does this amazing festival take place always on the second weekend of September? It is essentially a tribute to the naval battle of September 8, 1822. That's when the Turks tried to invade Spetses and Hydra, in order to take the Greek forces away from the siege of Palamidi in Nafplion, still occupied by the Turks. Even though they were fewer, Greeks were proven once more to be heroes and emerged victorious, since they destroyed the Turkish flagship, making the rest of the enemy ships fall back.
The people who want to enjoy the festivities can do so from the shore, but the truly privileged spots are in the sea. From Porto Heli you can take the boat to take you out in the sea, quite close to the reenactment of the naval battle, so you can have a unique view of the blowing up of the flagship.
Of course, the Armata at Spetses is not just about that weekend. The week is full of events that have already started with boat races, and it includes traditional and Latin dances, gymnastics, concerts and religious ceremonies.
For Argolida and the seas around it (let us not forget that Spetses belong to Attica prefecture), Armata is the autumn highlight and it is definitely a spectacle that everyone needs to see at least one in their lives.