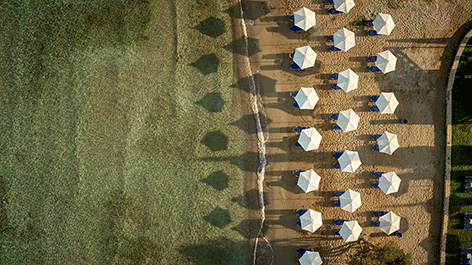 Arriving at Porto Heli, you are sure to be making your way onto the most exclusive bay of the entire Porto Heli gulf, Hinitsa Bay, that overlooks the islet of Hinitsa, and is the place we are blessed to call our home. Consider a check-in that is smooth, discrete and informative while within a few more minutes, you are already in your room, getting settled in.
The day at AKS Hinitsa Bay begins at our Zephyros main restaurant where breakfast is made of all your favourite things, your free choice from a rich buffet that covers both the savory and sweet desires, for the entire family! When you see the glorious morning views from our Zephyros terrace you will find yourself waking up with excitement the following days in anticipation of such a scenic and tasteful breakfast!
The rest of the day is yours to seize as you deem best suits your fancy: is it the shimmering sea that soothes your soul? Relax on our complimentary sun beds, making your choice between the ones on the beach or on the specially designed lawn. Are you more of a pool person? Then you can enjoy your tanning session and take a dip when you need to, forgetting about the hassle of sandy feet! Children have their own designated swimming pool too next to the adult one, while you will never run out choices to be refreshed by, and not only the be refreshed by. Choose one of our many activities in the Peloponnese for both younger and older guests!
Won't you(r family) join us?